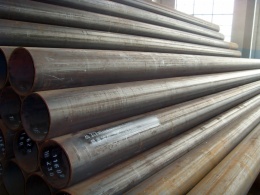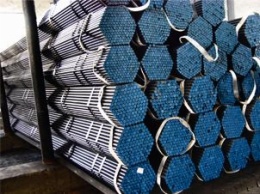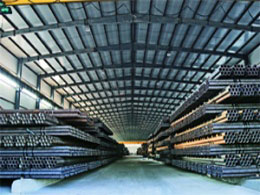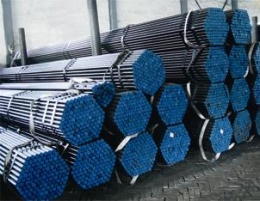 Our main products include 8 series: Carbon steel seamless pipes for use in low and medium pressure boilers, petroleum casing tubes, ships, fluid conveyance, petroleum cracking, chemical fertilizer equipments, structures, and hollow pumping rods.we can produce seamless steel pipes from OD3/4" to Od32", thickness SCH30,SCH40, SCH80, SCH160 and so on, according to the standards such as GB、ASTM、API 5L、API 5CT, DIN, and JIS. Its products have been sold around China and exported to over dozens of countries and regions in the world such as Southeast Asia, the Middle East, Europe and America etc., enjoying the very high prestige in the domestic and foreign markets.

(1)From 3/4"-3", our pipes are cold drawning.

(2)From 4"-12",our pipes are hot rolling.

(3)Over 12", our pipes are hot expansion.

A53 Chemical components and mechanical propert
stand
ard
Trade mark
Chemical components


Mechanical property
C
Si
Mn
P
S
Cu
Ni
Mo
Cr
V
Tensile Strengt
h(Mpa)
Yield Streng
th(Mpa)
Elong
ation(
%)
ASTM A53
A
≤0.25
/
≤0.95
≤0.05
≤0.06
≤0.40
≤0.40
≤0.15
≤0.40
≤0.08
≥330
≥205

≥29.5

B
≤0.30
/
≤1.2
≤0.05
≤0.06
≤0.40
≤0.40
≤0.15
≤0.40
≤0.08
≥415
≥240

≥29.5






























 
































A106 Chemical components and mechanical property
stand
ard
Trade mark
Chemical components


Mechanical property
C
Si
Mn
P
S
Cu
Ni
Mo
Cr
V
Tensile Strengt
h(Mpa)
Yield Stren
gth
(Mpa)
Elon
gation
(%)
ASTM
A106
B
≤0.30
≥0.10
0.29~
1.06
≤0.035
≤0.035
≤0.40
≤0.40
≤0.15
≤0.40
≤0.08
≥415
≥240

≥30

C
≤0.35
≥0.10
0.29~
1.06
≤0.035
≤0.035
≤0.40
≤0.40
≤0.15
≤0.40
≤0.08
≥485
≥275

≥30






























API 5L Chemical components and mechanical property PSL1
Class and Sort
Chemical components
Mechanical property
C
(Max)
Mn
(Max)
P
(Max)
S
(Max)


Tensile Strength( Min)
Yeild Strengh(Min)


psi
Mpa
psi
Mpa


A25
CLⅠ
0.21
0.6
0.03
0.03


45000
310
25000
172
CLⅡ
0.21
0.6
0.03
0.03


A
0.22
0.9
0.03
0.03


48000
331
30000
207
B
0.28
1.2
0.03
0.03


60000
414
35000
214
X42
0.28
1.3
0.03
0.03


60000
414
42000
290
X46
0.28
1.4
0.03
0.03


63000
434
46000
317
X52
0.28
1.4
0.03
0.03


66000
455
52000
359
X56
0.28
1.4
0.03
0.03


71000
490
56000
386
X60
0.28
1.4
0.03
0.03


75000
517
60000
414
X65
0.28
1.4
0.03
0.03


77000
531
65000
448
X70
0.28
1.4
0.03
0.03


82000
565
70000
483





























 

A192 Chemical components and mechanical property




Chemical components




Mechanical property
stand
ard
Trade mark
C
Si
Mn
P
S
Cu
Ni
Mo




Tensile Strengt
h(Mpa)
Yield Stren
gth
(Mpa)
Elong
ation
(%)
ASTM A192
A192
0.06-
0.18
≤0.25
0.27-0.63
0.035
0.035
/
/
/




≥325
≥180

≥35